Stanley Baldwin Exhibition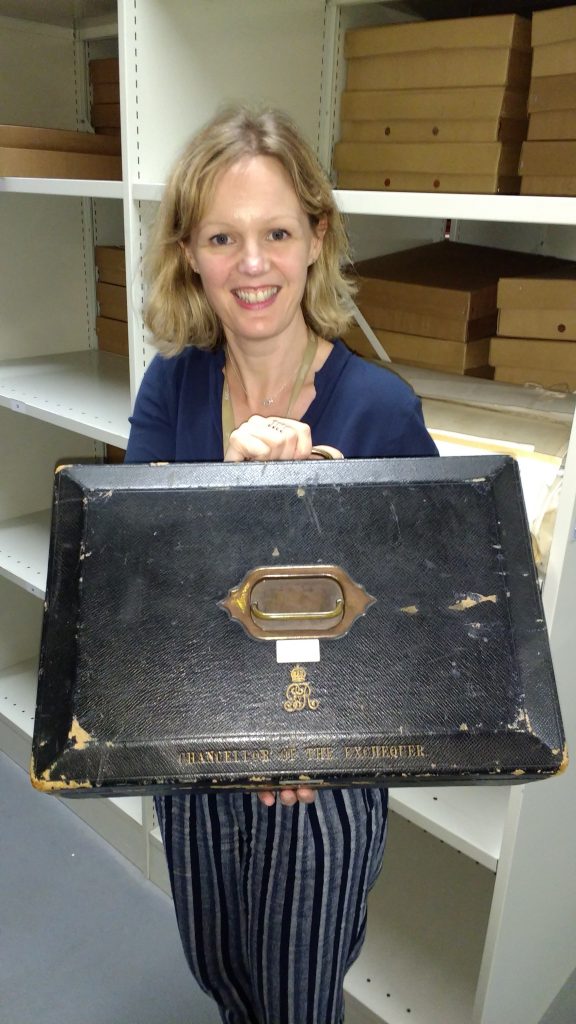 Get up close to one of the famous Despatch Boxes held aloft by the Chancellor of the Exchequer in a one day exhibition about Stanley Baldwin
2017 is the 150th anniversary of the birth of Stanley Baldwin, the three time Prime Minister from Worcestershire. To coincide with this we will be display documents from his personal collection, in addition to the box.
Baldwin was born in Bewdley and went on represent the town as MP from 1908-37, after which he was made Earl Baldwin of Bewdley. He lived at Astley Hall, and was buried in Worcester Cathedral when he died in 1947.
A few years ago the current Earl Baldwin donated a collection of personal papers relating to Stanley Baldwin to us. His political papers have been deposited elsewhere, but as a Worcestershire man it was fitting that this particular collection remain in the county for people to view. One of our archivists, Claire, has been going the collection cataloguing it to make it available for people to see here. With the anniversary of his birth this month we thought it would be an opportunity to let people see some this amazing collection. She selected a few highlights including
Despatch Box – Baldwin was Chancellor of the Exchequer for a year before he took over as Prime Minister. He evidently kept one of the boxes, although it is black as opposed to the red we are familiar with on Budget Day today.  He used it store some of his papers so arrived here full of documents.
Freedom of Worcester City – Stanley was granted the Freedom of Worcester City in 1923. The collection also contains the table plan of the Mayor's Luncheon at the Guildhall and card detailing arrangements for the visit of The Prime Minister to the luncheon for his admission as Honorary Freeman.
Cartoon by Sidney Strube – Baldwin had a cartoon on his bedroom wall by Strube, depicting him as Rip 'Stan' Winkle returning to politics after a period away for ill health. It is a rare original cartoon produced by one of the famous cartoonist of the era who drew for the Daily Express.
 King's Speech to The Empire – This is a copy of Kings Coronation Message to the Empire Broadcast from Buckingham Palace by His Majesty King George VI  May 12 1937. It came in an envelope addressed "The Right Honble, Stanley Baldwin, M.P, 10 Downing Street. By Hand". We now of course know much more about The King's struggle with radio broadcasting, making this item all the more interesting. Baldwin announced his resignation as prime Minister the day after the coronation.
Photograph from The Imperial Conference 1926 – This photograph was taken at the seventh Imperial Conference held in London from 19th October to 22 November 1926. Stanley Baldwin as Prime Minister at the time was Chair. The photograph is signed by the attendees, including Stanley Baldwin, Winston Churchill, Earl Balfour and Austin Chamberlain. The conference is most notable for The Balfour Declaration with stated that the UK and its dominions agree they are "equal in status, in no way subordinate one to another in any aspect of their domestic or external affairs, though united by common allegiance to the Crown, and freely associated as members of the British Commonwealth of Nations.
Earl Baldwin Fund for Refugees – in 1938, after he had left politics, he made an appeal on behalf of Jews fleeing Nazi Germany. He made a radio broadcast, before having it published in newspapers.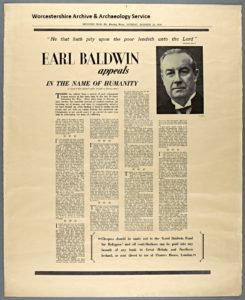 As well as original documents we'll have a wide selection of images from the collection which give an insight into Baldwin as a person, such as the spoof newspaper he wrote with his cousin, and the collection of anecdotes he kept. Even when photos and letters about national and international matters occur they are personal mementoes.
The exhibition will be in The Hive on Level Two on Saturday 19 August 11am-3pm and you can just drop in to have a look and find out from Claire about this important archive and some of the stories she has uncovered.